Afterparty Massacre
Soundtrack CD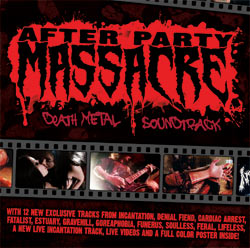 ---
Incantation/Denial Fiend
7 Inch Vinyl Record Split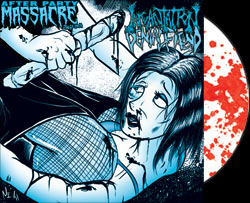 The Afterparty Massacre soundtrack is full of blood - guts and metal! With 12 exclusive tracks from Incantation - Denial Fiend - Cardiac Arrest (2 tracks) - Fatalist - Estuary - Gravehill - Goreaphobia - Funerus - Soulless - Feral and Lifeless - this soundtrack is a must have for metal fans!

The soundtrack also includes movie samples - a new live Incantation track - live videos and a full color 19 inch tall double sided poster inside!

All CDs ordered on Horrormerch.com will be sent in a limited edtion red jewel case and also signed by the directors (Kyle Severn of Incantation and Kristoff Bates) of the Afterparty Massacre.

Track List:
01. stairway to hell (sample)
02. denial fiend - afterparty massacre
03. i want to be good (sample)
04. incantation - absolved in blood
05. estuary - impulse imprint
06. sawwhores (sample)
07. gravehill - if you want blood (ac-dc cover)
08. goreaphobia - organ donor
09. flower power (sample)
10. cardiac arrest - decomposed in no man's land
11. potty mouth (sample)
12. soulless - bleed you dry
13. the afterparty (sample)
14. feral - necrofilthiac
15. funerus - reduced to sludge
16. the massacre (sample)
17. fatalist - beyond the unholy grave (death cover)
18. killer hottie (sample)
19. lifeless - death to the bone
20. rain in blood (sample)
21. kyle from incantation had to take a piss
22. incantation - absolved in blood [live]
23. cardiac arrest - rotting creator

Pick up the limited edition and signed copy at Horrormerch.com or pick up the regular versions at Amazon.com, Best Buy or FYE.
Listen to these Youtube song sound bytes and watch the HD trailers below


Click here to watch Cardiac Arrest - Rotting Creator on Youtube


Click here to watch Denial Fiend - Afterparty Massacre on Youtube


Click here to watch Fatalist - Beyond the Unholy Grave (Death cover) on Youtube


Click here to watch Feral - Necrofilthiac on Youtube


Click here to watch Funerus - Reduced to Sludge on Youtube


Click here to watch Gravehill - If You Want Blood (AC/DC cover) on Youtube


Click here to watch Incantation - Absolved In Blood on Youtube