Click here to purchase the Afterparty Massacre soundtrack, movie and more!
---
Oct 2010 - Afterparty Massacre Trailer 2 to Premiere at Cinema Wasteland Oct 1-3!
We will be premiering the new Afterparty Massacre trailer this weekend at Cinema Wasteland! Filled with a bit of blood and gore this trailer will show a few more kill scenes and a bit more torture involved as well as this one is a bit more of a "PG-13" rating than our last one filled with blood, scantly clad flesh and gore.

But here's a few stills from the new trailer, and you can check out the trailer at Cinema Wasteland this weekend or this coming monday at http://www.afterpartymassacre.com!

















---
Aug 2010 - Come Meet the Cast and Crew of the Afterparty Massacre at Horror Conventions This Fall!

Drop by the Horrormerch.com booth at these fall conventions and meet the directors Kristoff and Kyle - plus cast members Scarlett Von Sinn, Pretty Poison and Danica Satanica! Be sure to grab free a poster and get some free autographs from the cast and crew!

Aug 20-22 Monster Mania - Cherry Hill, NJ (monstermania.net/MMC15_Guests.html)
Sep 17-19 Monster Mania - Hunt Valley, MD (monstermania.net/MMC16_Guests.html)
Oct 01-03 Cinema Wasteland - Cleveland, OH (cinemawasteland.com/show.html)
Oct 08-10 Spooky Empire - Orlando, FL (spookyempire.com)
Oct 15-17 Rock And Shock - Worcester, MA (rockandshock.com)
Nov 05-07 Scarefest - Lexington, KY (thescarefest.net)
Nov 12-14 Horrorhound - Cincinnati, OH (horrorhoundweekend.com)

See you on the road! :)
---
Aug 2010 - Want to be in a Horror movie?
Hey Cleveland - come out to a FREE party Sunday Aug 8 at Rockstar (Peabodys)! - we'll have lots of booze, some free food and DJ Vince Zingale spinning metal all night! Plus We'll be filming party scenes for the Afterparty Massacre so be sure to dress up and have fun! :) - 18+ to enter / 21+ to drink / Photo ID required / 6PM / FREE!

Click here to check out the flyer!
---
July 2010 - New Photoblog Added
We've added about 50 production stills and behind the scenes pics up from the past few shoots we've done over the past few weeks... Click here to check out all of the new updates!
---
July 2010 - Afterparty Massacre in the new Horrorhound
---
July 2010 - More Bands Added
We've just added Bit Riot Records artists Cyanotic, Defcon, Everything Goes Cold, Left Spine Down and Torrent Vaccine to the roster of already huge bands within the underground music circuit. With a bit more industrial/coldwave/metal/noise - we will be pumping the Afterparty Massacre full of underground tunes!
---
June 2010 - Afterparty Massacre Shirt Now Available
---
May 2010 - Trailer and Free MP3s!
We've made an exclusive Afterparty Massacre Trailer ENHANCED CD for Maryland Deathfest which we will be handing out there, but if you can't make it to MDF, Click here to view the trailer, listen to the MP3's and make a copy of the CD to give to your friends too!

http://www.afterpartymassacre.com/mdf/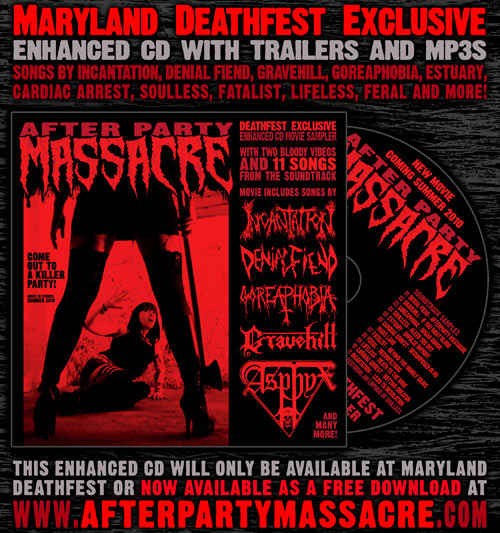 ---
May 2010 - Coming Soon
We've been busy filming some blood and gore so a new Videoblog, a couple teaser trailers and stills coming very soon! :)
---
Mar 2010 - Photo/videoblog posted
We've posted a videoblog of the first few shoots and highlighting the Incantation/Soulless performance shoot as well. Plus interviews with directors Kristoff/Kyle Severn and also interviews with the bands Acheron/Goreaphobia/Incantation as well with their parts for the soundtrack that will accompany the movie as well.

Incantation live show photo + videoblog
---
Feb 2010 - Photoblog Added
As we've just started production, we've been adding a few stills to our site... click on them to check em out!

Suspension performance and a not so "glory hole" Be sure to check out our Facebook page as we're updating that after our shoots for a quicker scoop! :)
---
Feb 2010 - Production started
We've started production on the Afterparty Massacre! We will be posting some stills here over the next week or so from our first few location shoots. Or check out our Facebook page as we're updating that each day after our shoots for a quicker scoop! :)
---
Jan, 2010 - Interview posted
http://www.afterpartymassacre.com/press-teaser.shtml
---
Jan, 2010 - Teaser Poster Released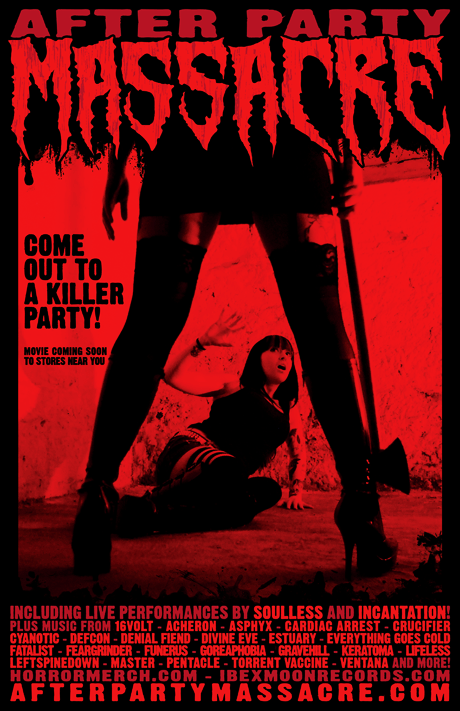 Featuring live performances by:




Plus songs by:





















Plus suspension performances and artwork by:





On Set FX work and props from: